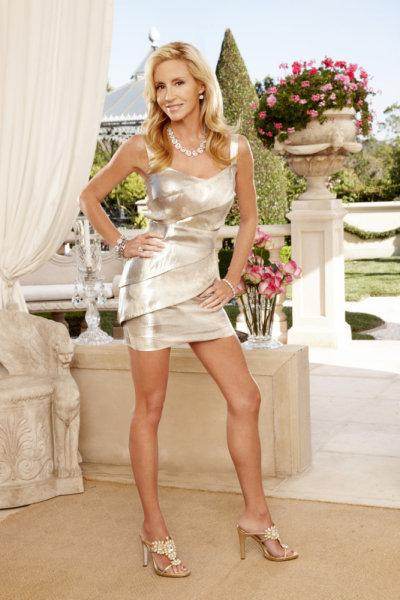 I have dirty secret: I love bad TV. (I also, for the record, love really good, really cerebral TV: I think shows like
Mad Men
and
The Wire
, both of which I count among my all time favorites, are so good they are like reading complex novels -- and just as challenging.) But in my quest to straddle the gap between high-brow (my work, my fancy degrees, my bookshelf, my magazine subscriptions) and the low-brow (basically any reality show where I have as much in common with the characters as I do with meerkats; ie: I frequently doubt we're members of the same species), I have become addicted, yes, to the Real Housewives cohort on Bravo. (Hubby's a convert, too: we look forward to evenings with our "girls" and some Thai takeout.)
I like to say watch these shows anthropologically, mentally noting the strange plumage and rituals of an exotic tribe. But it's more than that. It's hard to put my finger on exactly what compels me about this show: part of it's the conspicuous consumption, part of it's the voyeurism. But, I think, on a certain level, I'm attracted to it because it deals in, likely inadvertently, aspiration, reinvention, and fakery -- in other words, all of the complex human traits that might be found in characters in a great novel. The difference is, the Housewives are blissfully un-self-aware. And that's where the comedy comes in. When
Teresa
, of New Jersey, was revealed to be nearly 11 million dollars in debt (how does that even happen?), her entire persona was shown to be a facade, her gaudy, architecturally-incongruous mansion a Potemkin village. She's fooling no one but herself. More comedy gold: last night, on the Beverly Hills edition,
Camille Grammer
, now ex-wife of Dr. Fraiser Crane, said she would feel cramped in a 3500-square-foot, three-bedroom apartment in Manhattan. Because, you know, New York is known for its spacious -- and affordable -- real estate. Really, I'd like to have it so rough. Who are these people?
I have nothing in common with any of these women, with their fake breasts and fish lips. I think the show is supposed to make you feel bad: look at all the stuff they have that you don't. But I don't feel that way. It reminds me how happy I am to be in a marriage where, above all else, we value communication and equity. Sure, who wouldn't want a closet full of Louboutins? But I don't want them at the expense of my independence. The Housewives, then, both fascinate and repel me, often in equal measure. They are windows into a world very different than my own.
So imagine my surprise when, out of nowhere, we cut to Camille, she of beautiful body and sad eyes, getting a manicure and talking with her mother about the results of her recent BRCA 1 & 2 screening.
What? BRCA on Bravo? Camille, she reveals, is BRCA positive, a carrier of the same mutation as her mother, who is currently batting breast cancer. Wait, that's huge. BRCA just got more air time and was put in front of more people than were likely reached during the Hereditary Breast and Ovarian Cancer Awareness and Previvor campaigns this fall. And then, typically, Camille, California-ly, says, "it's all about positive energy." Well, actually Camille, it's not. But she said she's being monitored and had recently undergone a battery of tests, so it seems even if her head is distorted by new age thinking, her doctors have her following a strict surveillance regimen.

All of which, of course made me think – does Camille know what she's up against? Did she receive good genetic counseling? Is she aware she, at her age, should probably consider an oopherectomy? In other words, I wanted to help this woman -- this woman who until moments before was a caricature, and exaggeration, a strange being from the planet Restylan -- because we had something very important in common. I hope she's getting the care she needs. This is a woman who is very well attended to in every other aspect of her life -– serviced by nannies and assistants and personal trainers and creepy family friends who make passes at her in hot tubs in Hawaii – and I just want her to be as vigilant about her breast and ovarian health as she is about maintaining her twenty-six homes.

And I hope people who heard her talk about BRCA last night, and who wonder about what that means and whether they should be screened for it, find the answers they need, too.

See, bad TV can sometimes be (and do) good.

(Apropos of nothing boob related, Richard Lawson has the best recaps on the internet of the Hausfraus over at Gawker. Read and weep -- with tears of laughter.)